After the 1906 Olympic Games the winners got there winners medals
and an olive wreath for the first three in each event. In additional to the
winner medals a lot of special awards where handed over. But unfortunately
that kind of awards are not completely documented. The folllowing awards
are known and specified:
Kind of Award
Donator
Recipient
Silver Inkwell
Princess Sophia of Greece
Winner law tennis
Max Decugis
Copper Cup
Princess Sophia of Greece
Third place in tennis mixed double,
Aspasia Matsa and
Xeonophon Kasdaglis
Marble statue, Goddes Athene
work of the Greek sculptor
G. Vroutos
Municipal council of Athen
Winner Marathon race,
William Sherring, Canada
Two Hermes statues
Chamber of Trade, Athen
Winner in Rope Climbing
Georgios Aliprantis and
Nikolaos Aliprantis
Trophy
Organising Committee
Porcelain vase
Education Secretary France
Large silver cup
Brothers Mouratis,
Greeks from Great Britain
Different prizes manufactured
in Gold and Silver
P & K Brothers Botasi
Statue Hermes and
Statue Aphrodite
N. Kanellopoulos
Bronzecopy from a wolf from the Capitol in Rome
Lordmajor of Rome, Italy
Copy of the Honved monument in Budapest
Hungary
Greek Team
Copy in copper from a ancient discus thrower
Victor Balck
Greek gymnastic clubs
Cup
Winner discus throwing
Greek style,
Werner Järvinnen, Finland
Large silver badge
Winner discus throwing
free style
Martin Sheridan, USA
Together about 50 spezial awards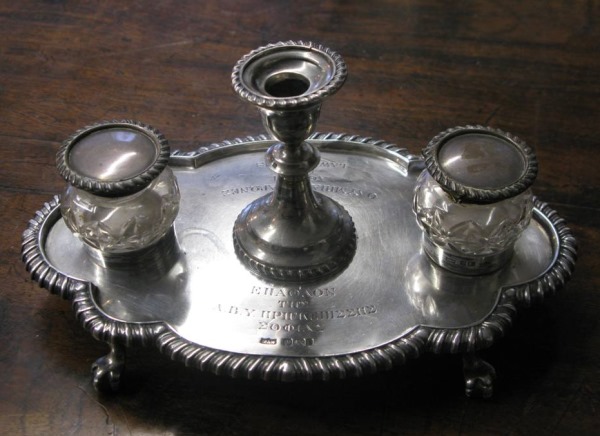 Silver Inkwell, donator was Princess Sophia of Greece
for Max Decugis, winner in law tennis
photo: private collection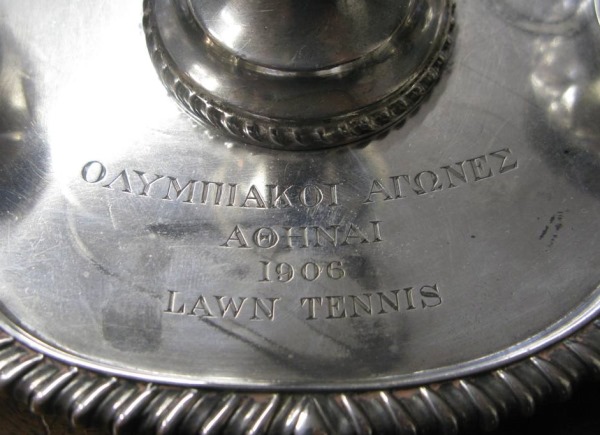 Detail: silver Inkwell
photo: private collection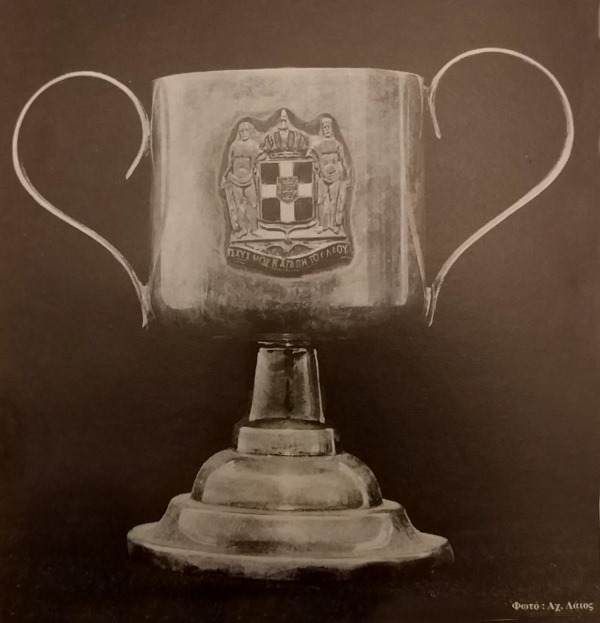 Copper Cup
Third place in tennis mixed double,
Aspasia Matsa and Xeonophon Kasdaglis
photo: Book "100 years Lawn Tennis Club Athens , 1895 - 1995"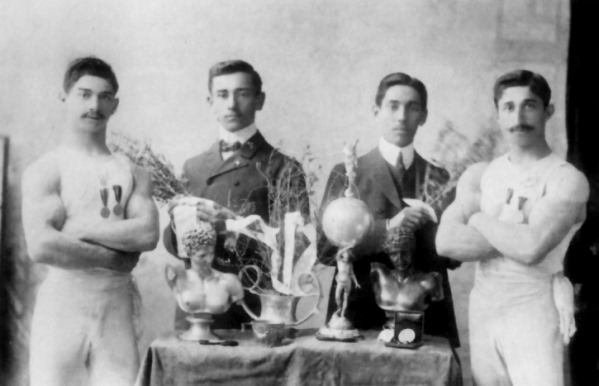 Nikolaos Aliprantis (right) and Georgios Aliprantis (left)
with different spezial awards on the table
Photo: Book "Olympische Siege, Sportverlag Berlin"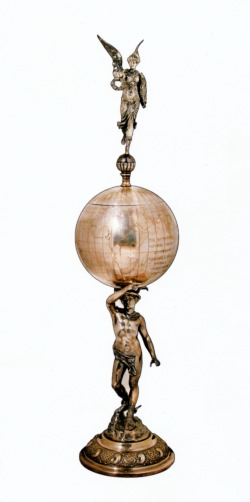 Throphy of Hermes carrying the world
presented to the gold medal winner in rope climbing
Georgios Aliprantis
photo: Ingrid O`Neil, www.ioneil.com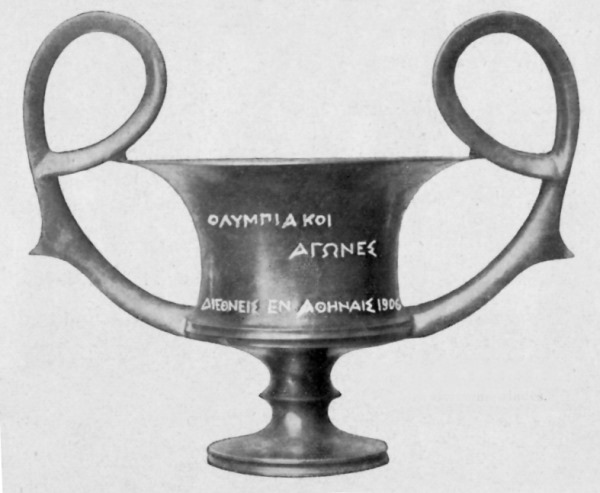 Cup from Georgios Demetriades (1878 - 1941)
source: Official Report 1906 from Savvadis, page 133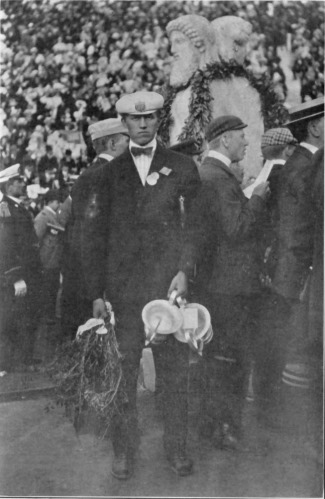 Paul Harry Pilgrim (USA)
winner 400m and 800 m
with cups and laurel wreaths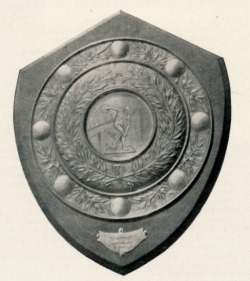 Silver Plaque won by Martin J. Sheridan
for throwing the disucus (free style, 1. place)
Special thanks to Stratos Klimou for his support:
http://www.olympicgr.com/