The Winner Medals 1988
The winners' medals designed by the Italian Professor Cassioli were used from the ninth Olympiad in Amsterdam in 1928 to the 17th Games in Mexico in 1968. At the Munich Games in 1972, Montreal Games in 1976 and the Moscow Games in 1980, independent designs were used on the reverse side of the medals upon the approval of the IOC.
The SLOOC began to study matters related to the winners' medals in 1984 and mapped out the major directions for the medals' materials and sizes. It set up a policy to put a unique Koreanstyle design on the reverse side of the medals for the official sports. In October 1986, the SLOOC commissioned the Korea Security Printing and Minting Corporation to manufacture the medals. The corporation submitted the draft designs to the SLOOC for deliberation by its advisory committee, and the final designs of the medals for winners and participants were announced publicly in June 1987, after being endorsed by the IOC Executive Committee.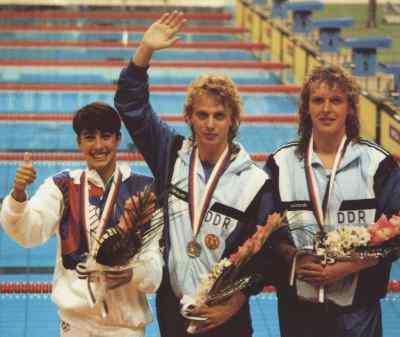 Victory Ceremony: 400 m Freestyle, Ladies
Janet Evans, Heike Friedrich and Anke Möhring


The winners' medals showed the ancient coliseum and the goddess of victory holding the laurel crowns on the obverse side on which were engraved "XXIVth Olympiad Seoul 1988." The back side showed a pigeon, the symbol of peace, soaring up, holding a laurel branch in its mouth, and the Seoul Olympic sash composed of three Taeguk patterns from the Korean national flag and five Olympic rings.
The medals were manufactured according to the pertinent provisions in the Olympic Charter. Gold took up 92.5 percent of the content of the gold medal, which was gilded with more than 5 grams of gold. It was 60mm in diameter and weighed 146 grams. Silver constituted 92.5 percent of the content of the silver medal and the remaining 7.5 percent of the content was bronze. It was 60mm in diameter and weighed 140 grams. The bronze medal contained 95 percent of bronze, 4 percent copper and 1 percent zinc. It was also 60mm in diameter.
A total of 525 gold, 515 silver and 550 bronze medals were manufactured for the official sports. For the demonstration and exhibition sports, 55 gold, 55 silver and 78 bronze medals were produced. All these medals were awarded during the Games.
(Source document: Official report 1988, Vol. 1., page 442)